Puppy Training Programs
Our Puppy Programs are designed for puppies under 20 weeks old. Please visit the Dog Training section if your dog is 20 weeks or older. Not sure? This Age Calculator can help you out.
For more information on our mission, philosophy and standards click here.
Private Puppy Classes
We are pleased to offer a comprehensive training program designed to capitalize on the developmental stages of your young dog.
This program includes 6 one hour sessions held at a temperature controlled indoor training facility, located just outside of Baltimore City. Only minutes from exit 50 (Caton Ave) off I-95, or exit 12 (Wilkins Ave) from the Beltway.
This program includes the standard equipment we require; training collar, 6' cotton leash, cotton long line and clicker. Elevated pet cots are available as an upgrade.
We provide an online training guide as well as access to a private puppy client Facebook group.
For puppies under 14 weeks old at the first session the cost is $450.
For puppies between 14 & 20 weeks old at the first session the cost is $500.
Our puppy program focuses on laying the foundation for an enjoyable life with your pet. Your puppy is already learning, and they will continue to do so every minute of the day. The sooner you know how to communicate effectively, the better! The sooner you can provide reasonable boundaries and set appropriate expectations, the sooner you'll begin to see more desirable behaviors and build a trustworthy relationship. These communication skills, boundaries and expectations allows you to address problems swiftly, reward behaviors effectively, and be proactive rather than reactive.
There are different levels to your dog's education, and this is a fantastic first step! In our puppy programs we address:
How to be proactive and preventative while developing cooperation

Clear and effective communication

How to increase behaviors you like and decrease behaviors you don't

Proper house manners (crate training/confinement, house breaking, calm behavior, etc.)

How to use play and games as a fun and educational activity

Proper exposure to people, dogs, the environment, etc.

How to address fear, aggression, and over-excitement

Developing good habits, patterns, and manners

Introduction to basic obedience
Clients that complete our puppy training program are given 20% off our adult group obedience class (open to dogs 6 months and older).
Boarding School
Let us help take the edge off the puppy stages that can be difficult to manage for busy people or if your puppy is a bit more than you bargained for. Crate training, house breaking (elimination schedule), socialization, manners, and more!
Puppy Boarding School starts at $1400 for two weeks, additional weeks/costs may apply depending on your dog's age and needs. Your trainer will discuss this in more detail with you. This is available for puppies as young as 8 weeks old.
Home School
We come to you for a session or two! This is a great option for those who have not had a dog before and/or need some guidance when it comes to setting up the dog's crate (location, size, etc), applying leash and collar management to help with the learning process, creating a routine that works for you and the dog including feeding, play, bathroom breaks, and relaxation time. A crash course in how to create behaviors that you want, and how to address common issues like chewing, jumping, and barking. This is not a complete training program and is intended to give you a jump start on puppy raising at your home.
Home School starts at $215; basic equipment included, additional travel fee may apply.
Incentives
Clients who begin training with us when their dog is in the Kindergarten age range are offered discounted training options for the rest of the dog's life. The benefits that come from early puppy training is so important to us that we want to reward you for your efforts!
Scroll down to learn more about each program...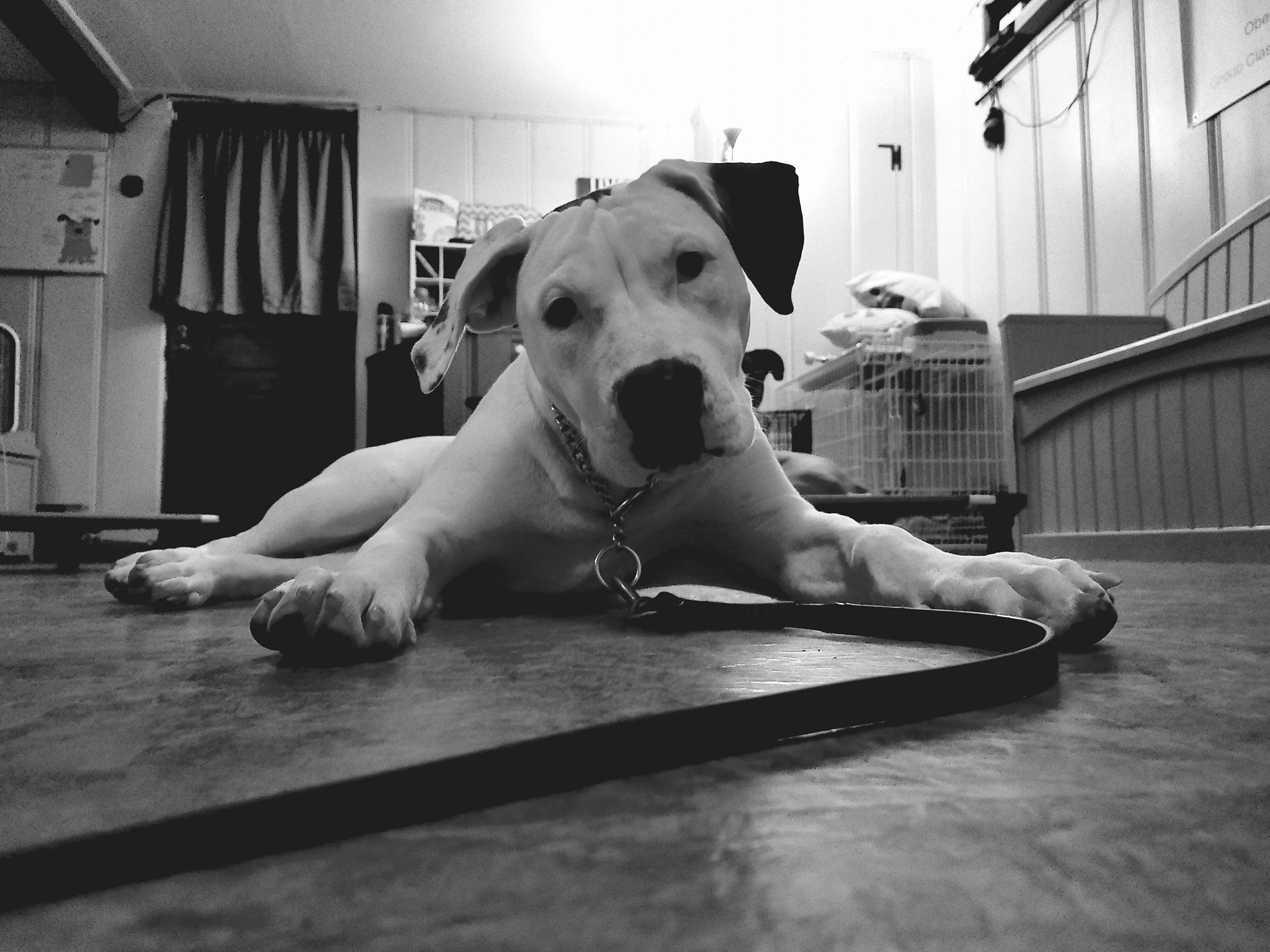 "I can't say enough great things about the Puppy program at Baltimore Dogworks. When I adopted Blair as a 4 month old puppy, Baltimore Dogworks was recommended by the rescue. I was skeptical at first because of past experiences I've had with dog trainers; paying a lot of money for cookie cutter recommendations.
From the first meeting I had with Gretchen, I knew this place was different. They provided a living training plan to follow based on their hands-on work with my puppy and were always confident with their instructions. In addition, Blair was socialized with their own well-trained dogs, something I couldn't safely do at the dog park or doggy daycare.
I'm not going to lie, it's a lot of work, and if I didn't put in the time between sessions, they could tell. Blair's well-being was their #1 priority and I appreciated their honesty. I constantly get comments on how well-behaved she is, proof to me that their methods work.
Blair now enjoys Baltimore Dogworks group classes, the next step after the Puppy program. Thank you Gretchen and Nate! Blair wouldn't be where she is now without you."
-Amanda and Blair
Follow Up: Amanda and Blair have since earned the AKC CGC title as well as CGC-A!
Congratulations on your new puppy! Puppies can be a joy...and a handful. Luckily we can help you make the most of the early stages in your dog's life and set you up for an enjoyable relationship.
The majority of issues we see in adult dogs are a result of the lack of creating an appropriate foundation during the critical development period that takes place from birth through about 14 weeks of age. Make sure you start off on the right foot and give your puppy the best foundation possible. Nothing, even the best training, can replace appropriate exposure, handling, structure, and communication during this critical development period. Contact us now to get started on the right path!
Because puppies go through many different developmental phases, puppy training is offered through private sessions for dogs up to 20 weeks old. Your training with us will be tailored to the specific developmental period(s) that your pup is experiencing in addition to what is most appropriate for them.
Socialization with other puppies and adult dogs is carefully constructed so the puppies learn appropriate communication skills through their interactions. We often initiate group play sessions with private puppy clients whose dogs are appropriate matches. Even more importantly we have a number of mature adult dogs who act as role models and teachers to the puppies. The opportunity for your puppy to learn from stable adult dogs is one that can not be replicated by humans!
So what does this all mean for you and your puppy? It means, start training now! It's an investment in your relationship that will provide dividends for the life of your dog.
Private Puppy Class:
6 Private Sessions

Communication & Cooperation

Proper Socialization, Discovery Learning & Novel Experiences

Calming and Impulse Control

Physical Handling & Bite Inhibition

Crate Training & Housebreaking

Basic Obedience Intro & Manners
Puppy Boarding School:
Boarding and training for two or more weeks

Includes at least 6 private sessions to teach you how to teach your dog and continue to work on his/her newly acquired skills.

All topics covered in Private Puppy Class

Multiple sessions daily with the trainer to work on these important skills, socialization experiences, and basic life skills
Home School:
Planning and implementation of routines

Use of proper crate, leash and collar management, and other tools to help during the learning process

Address common behavior issues, including house breaking, crating, chewing, jumping and barking

Introduce acceptable behaviors as well as how to teach them to your dog
Included with all programs is an online training and reference guide with written and video instructions as well as professional equipment. We also offer continued training incentives for those that begin training with us during puppy-hood. We truly want to see you and your dog grow as companions, and we can help you do that by showing you how to clearly communicate. The earlier you start training with us, the greater the incentives!
Most sessions take place in and around the Catonsville/Arbutus area, about 15 minutes outside of Baltimore City!
To schedule a free phone consult please click the button below.
"I could not be happier with my decision to have my puppy training with Gretchen at Baltimore Dog Works.
I was referred to her and their program and from the very first phone call they took the time to get to know me, my interests, my family, and my new puppy.
They have NEVER given me a student ID number. Every time I email or call on the phone they know me by my name. As staff and as my mentors they are encouraging, motivating, completely knowledgeable, helpful and always available for anything I need, If I call they answer and I've talked on the phone with her many times and got all the answers and advise I need to train my puppy. I was given links to videos as well.
They are genuinely there for their clients and completely invested in our success.
Anytime I call, text or email I get a response immediately. She is AWESOME!
We started in their private kindergarten class and requested a small group class for our puppy and 1 of her litter mates. This was great and helped us to really keep our puppy on track. She is so well behaved and greatly trained at 4 months. I can't wait for the larger group classes to start and to continue to the next levels.
Again I literally do not have one bad comment or even a criticism for anything about Gretchen or Baltimore Dog Works.
This school is amazing and I would recommend it to anyone wanting to have their puppy months be a fun and wonderful experience."
Tracey & Maggie
Follow up: Tracey and Maggie earned the AKC CGC title at only 6 months old, August 2017!